Jane's teaching is based in traditional French Classical dressage. Her training is thoughtful and progressive, using clear instruction and concise teaching to educate horse and rider in the language of the aids. Specific lateral exercises are used to correct each horse's individual asymmetries, resulting in true straightness.
Jane uses a progressive, mindful approach to teaching which respects the learning process, helping the student become aware of their effect on the horse as well as achieve their full potential. With dressage training we seek to preserve and improve the horse's natural way of going as well as preserve his generous nature.
Jane bases her training and lesson program out of Hilltop Haven Equestrian, located off Highway 203 between Carnation and Duvall. Lessons and training programs are customized to each individual horse and rider. Jane is also skilled in double lunging, long lining and lunging over fences to improve the gaits as well as develop the horse's all-around athletic ability.
Rates
Private 1 hour lesson: $65
Training ride for horse: $55
Full training (5 days/week): $675/month
Half training (3 days/week): $475/month
Working Student Opportunity
Jane also offers a full-time apprenticeship program, for the dedicated student looking to immerse themselves in French classical dressage. This is the perfect opportunity to dial up your advancement as a rider, or to develop the foundation of a career with horses. Please contact Jane with your interest and any questions!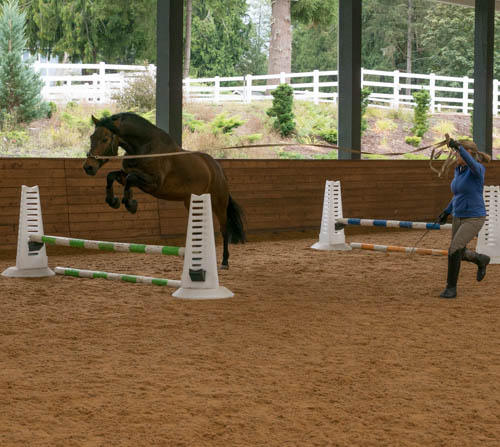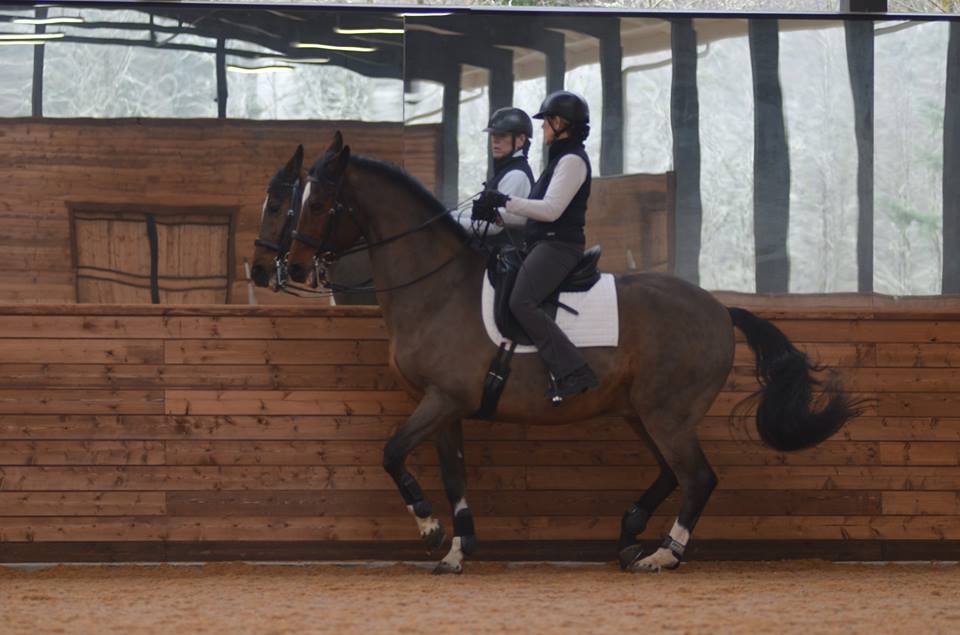 Goes in "Lightness" both in contact and to the leg. Contact is a conversation and is about the relationship between horse and rider. This relationship is maintained throughout all of the horse's work whether under saddle, in hand, over fences or on the trail.

Becomes physically developed showing correct musculature and well-developed gaits. These include changes within paces and the ability to both extend and collect at all three gaits with ease.
Understands basic lateral work including Shoulder In, Renvers, Travers and Half Pass
Developes correct balance and is able to find this state of balance for the task at hand
The founding principle of the School of Légèreté is absolute respect of the horse. It is a understandable and reliable training plan with clear principles, efficient methods and procedures that fully respect the nature of the horse and applies to all horses.
The methods of the School of Légèreté can be used for any horse, no matter the breed or type, to develop each horse to its fullest abilities including flying changes, piaffe, passage and spanish walk. These skills are not just reserved for "fancy horses." Correct, traditional, classical french dressage addresses the needs of every horse and rider who wants to be able to ride in lightness and understanding with their horse.